The Merchiston & Polwarth Neighbourhood Watch group was formed in June 2004 and the area that we watch has grown a bit since then. The streets that are now part of our scheme are detailed on the map below. Our primary function is the communication by email of relevant information about incidents of local crime and of crime prevention.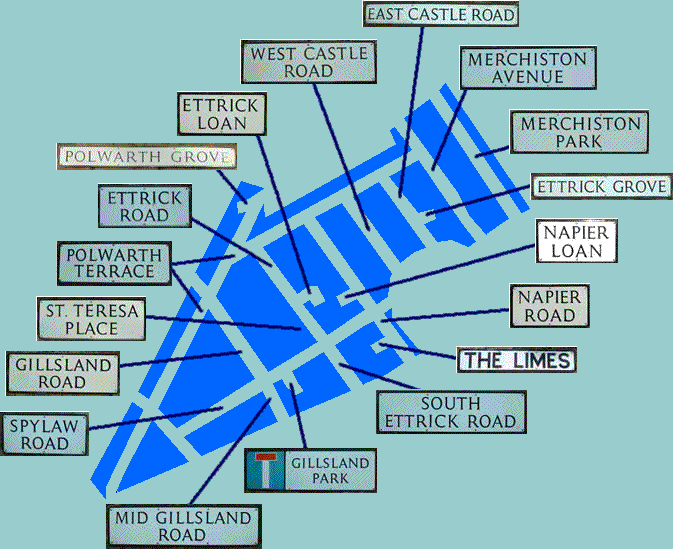 Here's what current residents have said about the email bulletins that they receive:
"we've certainly been a lot more vigilant recently following news of the attempted break-in high-lighted in the latest email".
"following reports in recent times of car break-ins we never now leave anything visible inside my wife's car which we park o/s in the street. We urged all our near neighbours to do the same (one has camper van parked outside fairly often) and, for example, my father who lives at Blackford."
"Every time we receive an email from you we consider our security arrangements. Our direct action we have taken includes replacing security light bulbs, arranging alarm maintenance visits and checking outside locks"
"I know this must take you a significant time to draft and edit - so thank you for taking the time to explain these elaborate scams in such detail"
...and the rather whimsical...
"I so look forward to getting your 'summary emails'. All that skullduggery and intrigue happening all around us. Thrilling stuff!"
&nbsp
To add your name to the (rather intermittent) Neighbourhood Watch emails, then simply complete the form that's below.
You can unsubscribe at any time by just replying to any of the received emails. There are no automatic mailing lists - it's all human driven!
Street Name History
An analysis of the word Polwarth means 'Pol' (Gaelic) for a muddy stream and 'Warth' (Saxon) for dwellings. The validity of the word certainly dates from AD900 when the church at the settlement of Polwart (vernacular), in Berwickshire was dedicated to St Mungo. He had brought Christianity to that district and formed a church there in the 6th century.

etc
These streets were named as a compliment to Henry Francis, 7th Baron of Polwarth (1800-1867). He has the right of possession of the ground on which the streets were built. His other title was Earl of Marchmont. Henry Francis was Lord-in-Waiting to Queen Victoria (1843-1867). The Marchmont title had, in reality, become dominant since 1794. The Polwarth name survived through his daughter, Anne.

etc
When Polwarth Parish Church opened in 1901, it was named Candlish Church, Merchiston. The name was Anglican for 'farm place'. The first proclamation of the name Merchiston (discerned Merchinstoun) was in 1266. Alexander Napier became the landowner from 1438. One of his sons was appointed Controller of Scotland in 1450, possibly called Archibald. Another son, Alexander, became Lord Provost of Edinburgh. The most acclaimed of course was John Napier. His invention of logarithms was published in 1614. Moreover, he was reputed to be a wizard and a divining rod treasure seeker. He died in 1617 while a fanciful interpreter of the apocalypse. The Merchiston named streets were built on what was part of the Merchiston Castle Estate owner by the Napier family. Their land was massive, stretching from Jordan Burn to Gorgie Road, taking in Boroughmuir and Meggetland. Landowners were venerated according to their acreage.


etc
Once part of the Merchiston Estate, the name came into the Napier family when Sir Frances Napier was created Baron Ettrick in 1872. Sir Francis had distinguished diplomatic careers as ambassador to the United States, the Netherlands and Russia. In addition, he was Governor of Madras in 1866. The Ettrick connection to the Napiers stemmed back as far as 1699 when the Mistress of Merchiston Castle married Sir William Scott of Thirlestane, which is situated on the River Ettrick.


Mr John Clapperton, Master of the Merchant Company, named his house 'Gillsland'. This name was later extended to the road which was made in 1897. The Merchant Company at this time was in possession of much of the surrounding land, including the site of George Watson's College, which was build in 1930.


The Spylaw streets were named after the old snuff mill at Colinton owned by the Gillespie brothers, this road being a route to Colinton. The name 'Spy Law' originated from a lookout hill In the ancient parish of Hailes whose alternative name was Spylaw.
All the above information was sourced from 'Update', The Magazine of the Polwarth Parish Church, issues 19 and 20 (Feb 2008 and Mar 2008). Researcher: Robert M Hogg
Ever wondered who your local MPs, MSPs and Councillors are? Just type in your postcode here and get in touch with them!
Do you have graffiti on property nearby you? The legislation for ASBO allows prosecution of Utility companies if they fail to remove graffiti vandalism on their property. This includes the Council parking meters, lamposts, post boxes, green box telephone exchanges etc. Please report this to our council.
0131 662 5000
0800 555 111
0800 169 0320
0131 654 5512